Gallery > Railways > UK > South Tynedale Railway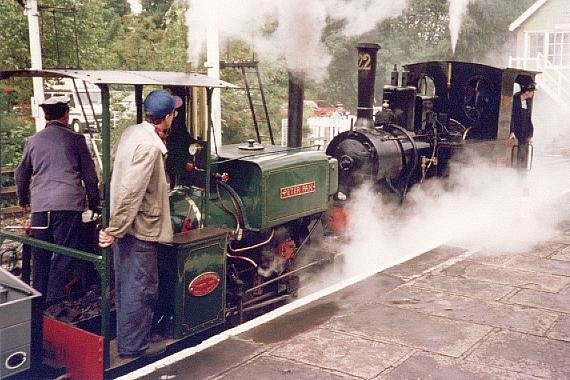 Double Heading
"Peter Pan", a Kerr Stuart "Wren" class 0-4-0ST, visited the South Tynedale Railway's Steam Enthusiasts Weekend 1992. It is seen here together with "Sao Domingos". The Orenstein & Koppel 0-6-0 well tank locomotive is now at the Bredgar and Wormshill Light Railway at home.

Comments
Posted by Daniel McIntyre on February 23 2007 at 13:04
Hello, I have just had a browse through your Narrow Gauge Heaven website tonight. In the South Tynedale Railway photographs - the one titled "Double Heading" shows "Peter Pan" and "Montalban" from the West Lancs Light Railway, at Hesketh Bank, Preston, Lancashire. It is certainly not "Sao Domingos" which was not in working order, at any time that it was based the South Tynedale Railway.
---