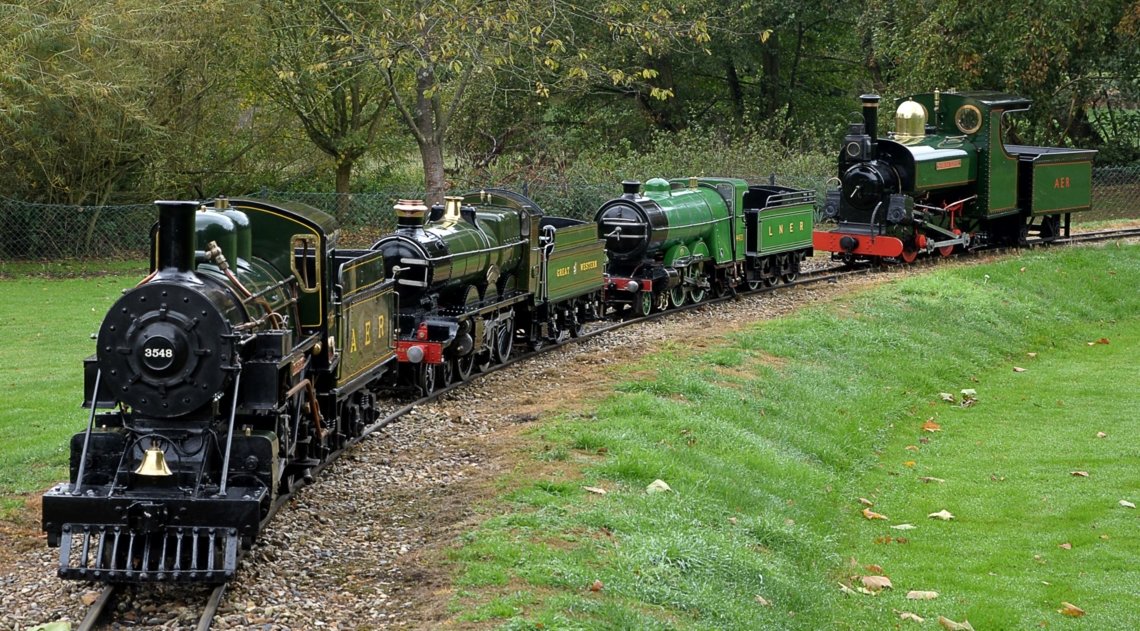 The four locomotives up for sale in the Dreweatts transport sale, 12 March 2019. Reputedly 10 locomotives from the Audley End railway are being auctioned off to raise funds to keep the line operating.

The other 6 locos are 5" scale models. Full details at https://www.dreweatts.com/the-lord-braybrooke-collection-12-march/.

These pictured are four 10¼ inch gauge locomotives from the group of nine locomotives were built by the late David Curwen, and of these one with Edgar Newbury ('Ivatt', no. 4433). The collaboration and friendship between Lord Braybrooke and David Curwen endured for 40 years, and dated from the early 1960s when Robin Neville, later Lord Braybrooke, approached Curwen to advise and assist in the supply of locomotives for a miniature garden railway to be built at Audley End.

In his autobiography Rule of Thumb – the life story of an engineer, Curwen recalls their first meeting where he and Lord Braybrooke 'talked and talked about railway locomotives'. The mutual respect between the two men was clear, Curwen himself thought that Lord Braybrooke should have been an engineer, such was his appreciation of the challenges in creating engines from scratch and the inevitable teething problems along the way. For his part, Lord Braybrooke credited Curwen with making the railway at Audley End a success, as he carefully designed and built hard-working and robust locomotives necessary for a commercial operation.

Curwen was to build nine engines in total for Lord Braybrooke's miniature railway. As Lord Braybrooke wrote in the foreword to Curwen's autobiography, 'We both love trains and always will!'.
| | |
| --- | --- |
| Copyright | Bloombury Auctions |
| Taken | 2018-10-17 |