Gallery > old uk narrow gauge photos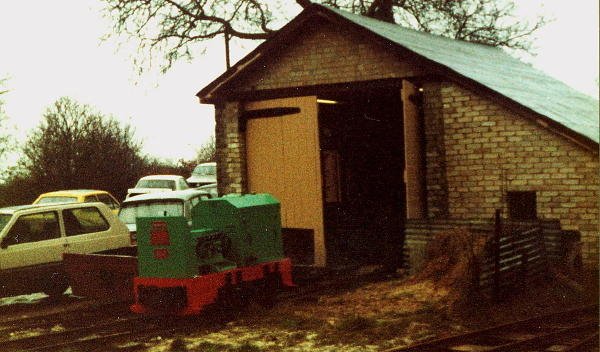 Unknown location
This photo was taken in the late 1970's, probably 1978. It may be the Bromyard & Linton private railway. Can anyone confirm the location?
| | |
| --- | --- |
| Copyright | Dan Crow |
| Taken | 31 December 1969 |
| Camera | Unknown |
| Lens | Unknown |
Comments
Posted by Dave Billmore on December 29 2007 at 14:46
I am sure the view is taken at the Brockham Museum Association site at Brockham Quarry, Surrey.
I worked there in my teens (many years ago now) and remember the work that went on to cut the double door in the end wall of the existing building shown in the picture by inserting a pair of old rails as a lintel. All without the gable collapsing.
The Association could never get planning permission for public access to its museum due to the awkward access off the A25 road. The entire collection eventually moved to Amberley Chalk Pits Museum. As far as I know the building still stands at Brockham. If you need any further information I would be happy to dig out my old copies of Brockham News. all the best Dave B
---
Posted by John Stanton on February 17 2010 at 13:05
I know it is Brockham!The shed was known as Gould's shed after a previous tenant. The new brickwork on the right is where the annex was extended to house a generator set. The loco is an O&K MD1 ex Redland Pipes, Ripley Surrey.
This loco is now at Amberley Museum and Heritage Centre (nee Chalk Pits Museum!)
---
Posted by colin skilton on February 17 2009 at 04:46
Sorry to disagree with Dave, but l remember the Brockham Museum as well and l don't remember the site being as open as the picture shows. The site was by several old chalk quarries in the Betchworth area. They actually used the site for many tv and films the most famous being Doctor Who with Tom Baker as the Doctor and Blakes Seven for some reason! The picture does look familier and l am wondering if its the narrow gauge railway at Bedford?. Either its intriuging and hope someone out there can help.
---
Posted by DS on March 2 2011 at 08:05
I concur with DB The picture is most definitely Brockham Museum. The Green loco is ex Redland Pipes Ripley Orenstein & Koppel 6193/1937 and the frames behind are those of Fowler Resilient 21295/1936 "Peldon". Both of these locos are now at Amberley Museum. The engine shed was referred to as "Goulds Shed", and the lean to on the right of the shed had the diesel generator inside.

I was probably about 5 or 6 when this photography was taken and remember vividly the green O&K arriving back from restoration by Redland apprentices wrapped up in plastic and spending a day cranking the ok & k engine over whilst my father tinkered with it to fix some of the teething problems on it.

The Dr Who episode filmed there was "The deadly assassin"

There is a good set of photos of Brockham Old days here http://www.flickr.com/photos/philjenkins/sets/72157618458512633/

another view of Goulds shed and the Ransomes Rapier that appeared in the Deadly Assasin is here

http://www.amberleynarrowgauge.co.uk/brockham/slides/ransomes&rapier-80--36-brockham-070282.htm
---
Posted by Dave Billmore on March 7 2011 at 12:41
It is definitely Brockham-the loco in front was restored there. The reason it looks open is because the photographer has their back to the quarry face and beyond the building you are effectively looking over the low level car park and out over Surrey! Dave B
---
Posted by Terry Benn on March 9 2011 at 10:48
Definately Brockham, the building was known as Gauld shed.
I very happy memories of that place & remember Dave Billmore very well.
Terry
---
Posted by Phil Jenkins on June 7 2011 at 13:53
My immediate reaction is that its Goulds Shed at Brockham long after I moved away. The extension has been re-built but the brickwork either side of the doors looks just the same. The cars are also parked exactly where we used to park. Have a look at http://www.industrialdean.co.uk/UK/abrockhamgallery.htm

Phil
---
Posted by John Crosskey on September 21 2012 at 11:31
Hi,

I agree with Dave Billmore. That is definately Brockham Museum. It must be late 70s as the shed has had the left hand corner of the shed extended (to house a geneartor I think). This was only done post 1976.

John
---
Posted by Dave BIllmore on March 6 2014 at 21:37
Just come across this again in 2014! It is definitely Brockham. That is Goulds shed and you are effectively looking past it to the left down the approach road to the site. This is why it looks so open, the site Is on the side of a hill and you are looking out across Surrey. Were you to turn round 180 degrees you would look into the site and then it is certaInly enclosed as Colin says. The location of the famous Dr Who sequence was behind the cameraman. Looks like a big working party or possibly one of the rare open days judging by the number of cars. Dave
---