Gallery > Railways > Australia > Puffing Billy Railway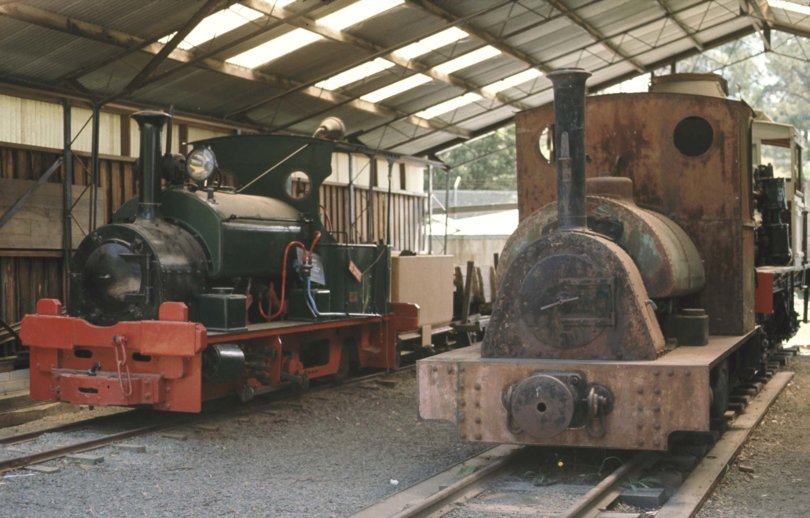 Peckett
A view of the Puffing Billy museum at Menzies Creek. The loco on the right is a Peckett 0-4-0ST ex-Melbourne gasworks. I believe it's now been restored to working order. I don't know anything about the engine on the left.
Comments
Posted by Bill hanks on April 7 2009 at 14:48
The loco on the left is a 2ft gauge Hudswell Clark that operated at the Macknade sugar mill in Queensland. It is currently operational (4/2009).
The 2ft 6in gauge Peckett was restored to service around 1980 for a total cost of $1500!, by a very resourceful museum group. It is used frequently for 'specials' but is most often seen giving enjoyment to hundreds of children when wearing 'Thomas' pyjamas.
Behind the Peckett is Shay No 14 from the Alishan Railway in Taiwan.
---
Posted by Gary Norwood on November 17 2015 at 10:48
The locomotive used to run on the rail system serving the Pleystowe Mill in North Queensland. It was their number 4. Built in 1925, builders number 1559. My now deceased father-in-law, Bob Hermann was one of the drivers of this loco prior to WW2. I do believe that he was responsible for having the roof raised. He was 6ft 4in tall.
When I stated going out with his daughter he proudly showed me some photos & he was surprised that I knew it was made by Hudswell Clark. He was even more surprised when I told him where it was & that was still running Back in 1994 Bob went to Menzies Creek to have a look at it. With some pre-arranging it was in steam for his visit. He was able to ride on his old loco and have a short drive again on the 2ft gauge track. He went home that night a very tired and very happy man. For many years afterwards he smiled a lot when he talked about it.
---